Are you looking for Sudhguru Quotes that will enlighten your thoughts about life and spirituality? then you are in the right place. This post is an exclusive collection of 'Sadhguru Quotes' that will change your way of looking to see life.
Sadhguru Quotes
Some best Sadhguru quotes are written below in the collection-
1. "If you know how to be at ease within yourself, every situation is an opportunity."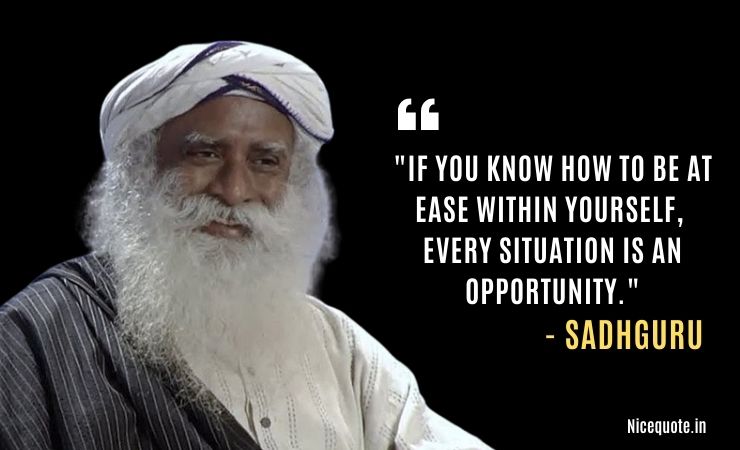 2. "Whatever you may do in your life, do it well."
3. "Not only trees- a variety of vegetation is necessary for rivers to flow. Before we fall dead, we must make this happen. Cauvery calling."
4. "Do not underestimate negative relationships. you have a deep bond with those you hate, fear, or envy. Time to dissolve it."
5. "Nothing can be denied to you when your focus is one-pointed."
6. "Once you learn a function at the peak of consciousness, everything will become a play."
Sadhguru Quotes on Life
7. "You must build yourself in such a way that when opportunities open up in your life, your body and mind will not hold you back."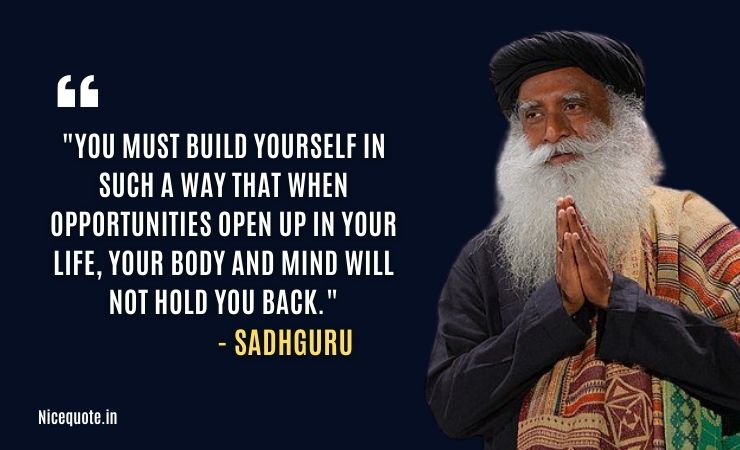 8. "Enlightenment means dissolving your limited personality. No persona means a limitless presence."
9. "You have no choice about what the world does to you. But what you make out of it is entirely yours – this is karma."
10. "You do not work for individual transformation, talking about world peace is just entertainment."
11. "If you approach everything in a celebratory way, you learn to be non-serious about life but absolutely involved."
12. "Once you are clear about what you are doing and why. Other people's opinions will not matter."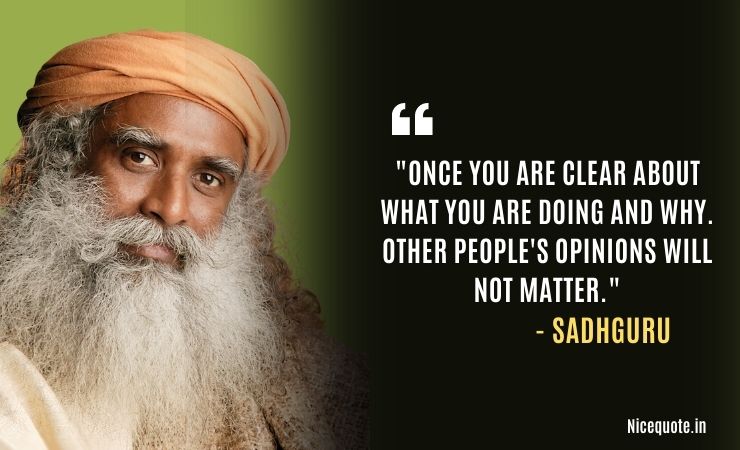 13. "There is no greater teacher than life."
14. "Call it stress, tension, or anxiety – essentially, it is just this: your intelligence has turned against you."
15. "Love is not what you do. Love is what you are."
16. "Truth is the only authority, Authority is not the truth."
17. "Being attached to someone is not about the other person. It is about your own sense of inadequacy."
18. "Before you expect someone else to be the way you want them to be, you must become the way you want yourself to be."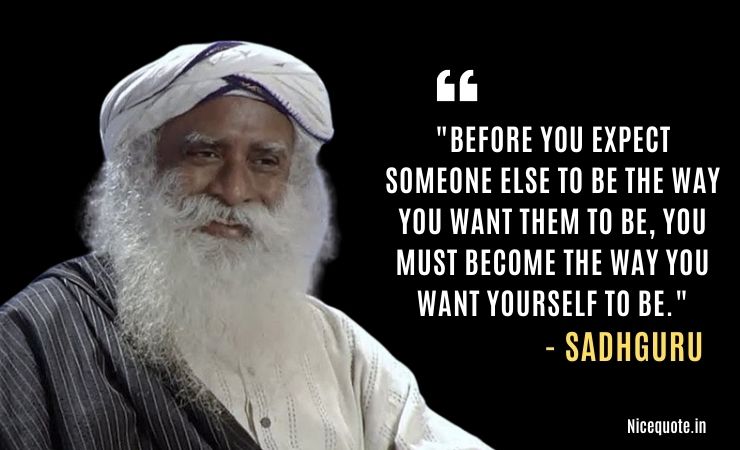 19. "This body is a machine that gets better with use."
20. "Anything you do joyfully is always effortless."
21. "youthfulness is about how vibrantly alive you are, not about when you were born."
22. "Technology without wisdom brings destruction."
23. "If you realize your life is 100% your responsibility, There is no room for being resentful towards anyone."
24. "If there is no risk of failure, there can be no success."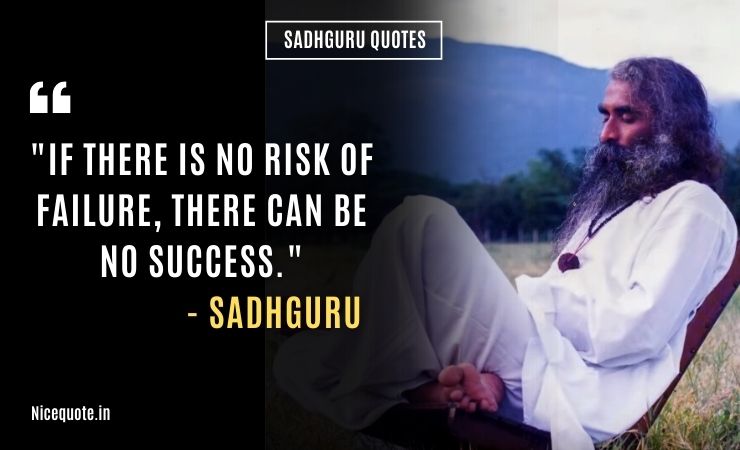 25. "Humans suffer from the self-significance syndrome. We are just another life form on the planet."
26. "Make yourself in such a way that you are always part of the solution, not the problem."
27. "It is not a shape of the nose or chin or the color of your skin that makes you beautiful. A joyful face is always a beautiful face."
28. "Once you are trapped in your mental framework, there is no space to experience life in its full glory."
29. "Tomorrow, you must be a little better than you are today, that striving should always be better."
30. "Teaching should not be a profession – it must be a passion. Only then can education move from imposition of fact to exploration of truth."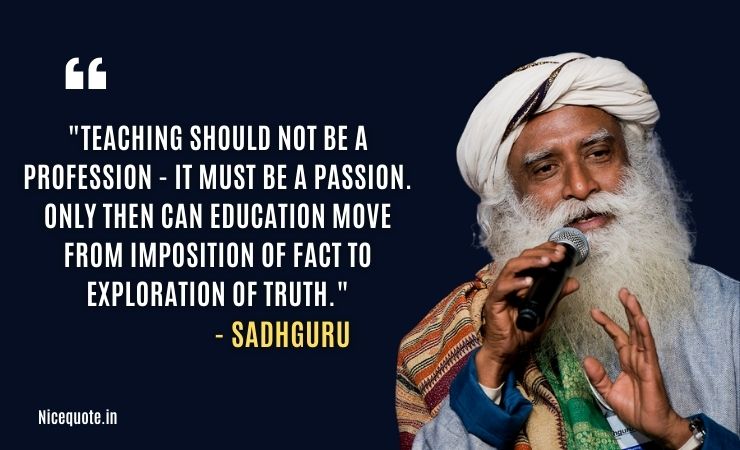 31. "The first and foremost step you need to take is to see that your life is your karma; it is your making. Without seeing that, your life is not really yours."
32. "Collaboration is far more powerful than the competition. Your body and brain work best when you are joyful and peaceful, not when you are pushed to the wall."
33. "Are you investing in making conclusions, or are you investing in your consciousness?
34. "If you care for people around you, you must make yourself into a person they enjoy being with."
35. "A human being is a highly sophisticated mechanism. If you are in proper tune, you are capable to perceive the whole cosmos within oneself."
36. "There are no problems, only situations. It is all in how you approach them."
37. "Fear means to suffer what way or may not happen in the future. It is a consequence of mixing up your memory, your present experience, and your imagination."
38. "When human beings are in a state of offering, they are at their best in every way."
39. "Giving up is not an option because it is a brief life."
40. "There is no path Inward. There are only methods to curb your wrong directions and turn you Inward. When there is no distance, how could there be a path."
41. "If you are really concerned about everyone's wellbeing, you do not have to worry about your survival – the world will take care of you."
42. "If you are not an issue, handling outside issues will not be a problem."
43. "Only when your experience of life moves beyond sense perception, it becomes absolute, not relative."
Read more-
I hope, these quotes from the 'Sadhguru Quotes collection' will change your way of looking to see your life if you follow these in your life with a positive attitude. If you like this post, Do share this with your friends on social media. Thank you for visiting the site.